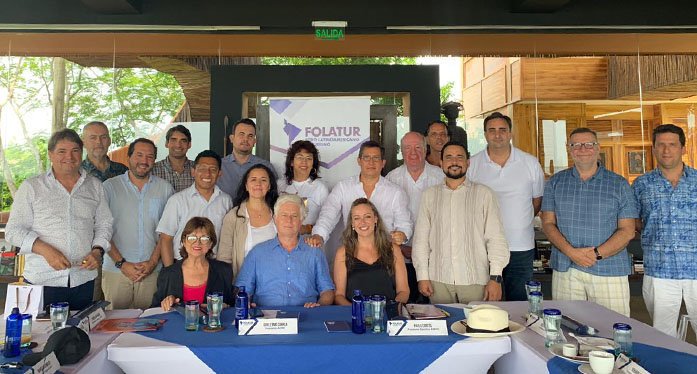 The Presidents of the Associations of Travel Agencies and Tour Operators of Latin America analyze the current situation of the tourism and travel industry.
With assistance of the 11 presidents members of FOLATUR, On Friday 24 and Saturday 25 of May, presidents and directors of trade associations in Latin America, representative of the distribution channel of the entire continent, met in the Colombian city of Cartagena de Indias to address a broad work agenda.
In an environment of associativity and collaboration among the trade union organizations of the region, the news and subject with which the 14 Assembly of FOLATUR was started, came from Chile, on the occasion of the announcement made at 23 May, regarding the transcendent opinion of the The Supreme Court of Justice, which accepted ACHET's claim, rejected the commercial agreement (JBA) between LATAM and American Airlines, and LATAM with BRITISH and IBERIA, giving a clear signal that the most appropriate way to achieve development is to promote and generating the conditions that allow the existence of competitive markets.
Under the presidency of Guillermo Correa, President of FOLATUR (President of Achet), attendees to the meeting of the Latin American Tourism Forum analyzed and debated issues of great importance for the independent distribution channel, which consolidates its validity as a key player in the industry of regional and world tourism. Among the main points analyzed, the regulatory frameworks of each country and the legislation that is operating to protect consumers and free competition were reviewed: the progress and application status of the NewGen and NDC programs of IATA; the participation of FOLATUR in the WTAAA meeting, (World Travel Agents Associations Alliance), a global association, in which FOLATUR holds the World Vice Presidency and the progress of the Travel Agents Act projects with the analysis of the cases of Argentina, Peru and Venezuela.
Likewise, the issue of informality was reviewed from different sources. An interesting example of work was presented by FAEVYT, from Argentina, which has implemented a Laboratory to attack informality. All the countries that were part of the meeting, Colombia, Brazil, Bolivia, Chile, Ecuador, Peru, Paraguay, Uruguay, Venezuela and Mexico were very interested in the work of the Laboratory and the results that have been obtained in these 6 months. work. Undoubtedly, informality is one of the major issues of concern to the sector and on which joint actions should be implemented.
In the meeting of Cartagena de Indias Anato, as host guild received the Presidents of Faevyt-Argentina; Abavyt- Bolivia; Abav-Brazil; Achet - Chile: Asecut-Ecuador; Grupo GMA-Mexico (representatives of the Mexican guilds); Asatur- Paraguay; Apavit -Peru; Audavi-Uruguay and Avavit-Venezuela.