As a result of the CSR agreement signed between Amadeus, FAEVYT (Argentine Federation of Tourism and Tourism Business Associations) and Inclume.com to promote the employability of people with disabilities, nine beneficiaries from Buenos Aires completed the basic Amadeus course.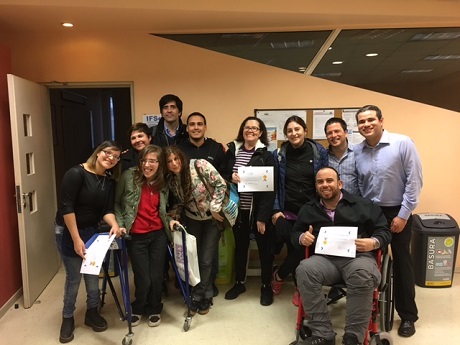 The objective of the agreement is to promote the educational development and labor integration of people with disabilities, which Inclume.com supports in Argentina.
Almost 450 potential candidates with disabilities responded to the call, after which inclume.com made a preselection of 16. Finally, the Human Resources area of ​​Amadeus and Inclume.com interviewed and selected the nine final participants.
Before the training, Inclume.com organized an awareness workshop for Amadeus instructors on how to work with people with disabilities.
The training was carried out in 'Institute of Higher Training in Tourism' (Ifset), an institute dependent on Faevyt. The participants received their diplomas certifying that they can operate the Amadeus system after successfully completing the training.
"The objective of this program is to promote inter-institutional cooperation in activities and projects that promote social and educational development and the labor integration of people with disabilities, thus improving educational support of a technological nature through Corporate Social Responsibility actions for their insertion in the travel industry. We are confident that this initiative will help improve the employability of the participants ", he pointed out Roberto Senestrari, Senior Advisor to VP Latin America & Caribbean.
Moreover, Gabriel Marcolongo, CEO of Inclume.comHe added: "We are convinced that the collaboration with Faevyt and Amadeus will help both people with disabilities to get a job, and to which companies in the industry can learn the benefits of generating job inclusion.".
At the same time, Fabrizio Di Giambattista de Faevyt He explained the importance of this program: "We believe that through the training and professionalization of people with disabilities we are contributing to the entire tourism sector. Through this program we benefit not only the companies themselves, but also their users, who receive attention from a supportive and diverse community ".
In addition, of the Amadeus course, four workshops were held "Soft Skills", with the aim of enhancing the skills for labor insertion: Teamwork, Time Management, Creativity and Innovation and Negotiation. These workshops were conducted by Accenture trainers, who have extensive experience in working with people with disabilities.
The intention of Amadeus is to organize a new course in the coming months, after observing the results obtained in this first experience. There is also the idea of ​​replicating this initiative in other countries, since Inclume.com is present in other markets in the region.
Finally, Matías Solé, Sales manager of Amadeus ArgentinaHe expressed his enthusiasm for this initiative: "We are very proud to participate in a project as inclusive as this one. From Amadeus we promote inclusion through work. Therefore, we want to continue working in this direction, so that more and more people can grow together with Amadeus ".