Here you will find the update of the exchange policies of the different airlines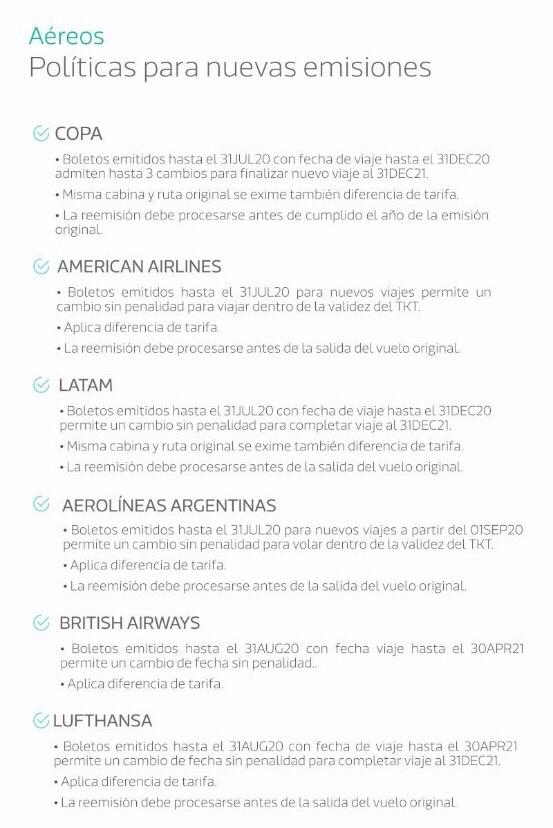 AIR FRANCE and KLM
Booking change and refund of Air France and KLM
LATAM
Information for agencies to share with passengers
Information for Regional and Sectorial Partners FAEVYT
ALITALIA
AIR EUROPA
New news Air Europa by clicking here
We want to inform you that due to the current situation we have improved the exchange restrictions on all emissions until 31JUL20.
This will apply with the first change without penalty, always seven days before the date of the flight (without exception).
GDS: Automatic referral for public rates, you will find the change free in the PE / VC rate restrictions.
AVIANCA
Ticket and Bonus Management purchased through Travel Agencies do Click here
AEROMEXIC
AIRLINES CUP
Validity table of unused tickets COVID19

ARGENTINIAN AIRLINES
AMERICAN AIRLINES
Information updated: July 1, 2020
• The offer has been extended until July 31, 2020
American Airlines has once again extended its waiver of exchange charges and is now reaching customers who purchase tickets until July 31, 2020 for future travel. This offer applies to tickets that meet the following criteria:
• Any ticket, except for Basic Economy fare, purchased no later than July 31, 2020 for future trips, will be exempt from the charge that applies for making any changes before the trip.
• It is allowed to change the origin and destination.
• No penalty will be applied in the case of voluntary changes made before the departure of your issued trip, as established in Category 16 of the fare rule. All the other rules of the rate will apply and, in the event that there is any rate difference, it must be paid at the time of making the change.
American is also currently offering a change fee waiver on all tickets (including Basic Economy) that are purchased for travel through September 30, 2020. For more information, see our Coronavirus Global Flexibility Waiver <https://saleslink.aa.com/en-US/blog/2020/travel_advisory/coronavirus-global-flexibility-waiver-travel-notice-exception-policy.html> (in English)
On the other hand, American announced today that it will modify its long-term international flight schedule for the period between the winter of 2020 and the summer of 2021 in the northern hemisphere.
The Flight Service Reduction / Suspension pages <https://saleslink.aa.com/en-us/schedulechange.html> (in English) for travel agencies are updated on the SalesLink portal for the Americas and the Caribbean, Asia, Europe / Middle East / Africa and the South Pacific, with new flight information.
The list of changes can also be found in our News Center <http://news.aa.com/coronavirus/> (in English). Updated information on international flights will appear on Sunday, July 5.
This information can also be found on SalesLink:
Most recent communications <http://www.saleslink.aa.com/> (in English)
Extension of our Global Policy of Exemption and Flexibility
https://saleslink.aa.com/en-US/index.html#/home
IBERIA


DELTA AIRLINES
Gol
https://www.voegol.com.br/es/agencias/cancelacion-remarcacion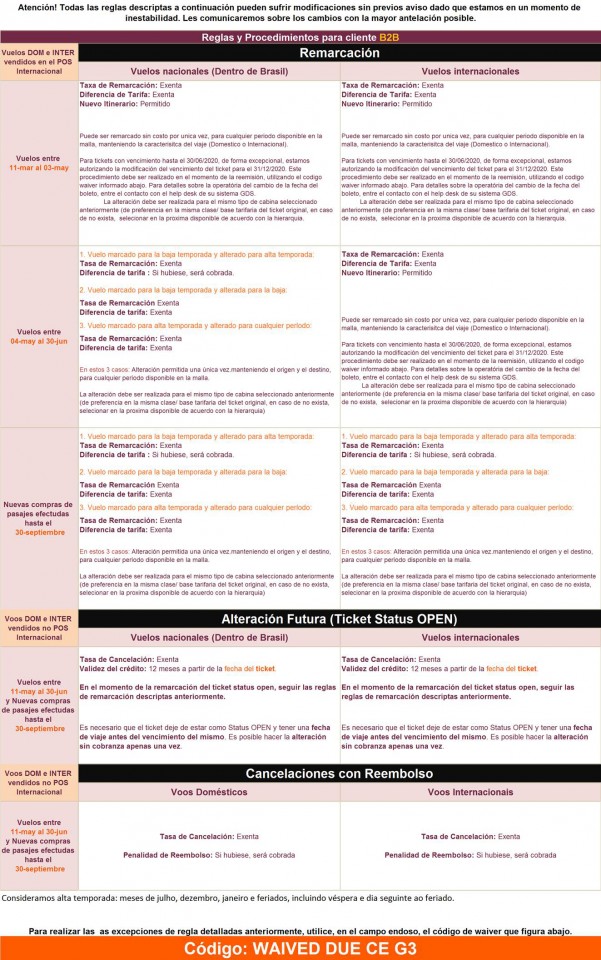 UAE
Policy update by Covid-19 as of June 29, 2020
TURKISH AIRLINES
AIR CANADA
Air Canada - Newsletter July 2020
* Returns
100% of the returns will have to be made via GDS, leaving the BSP Link totally out of effect.
* Issues in USD
Issuance via BSP in USD currency is permitted only in CASH payment.
The passenger's CUIT or CUIL must be loaded, or his passport number if he is a foreigner.
* Flexible exchange policy for emissions until 31-07-20
A change of date is allowed without penalty.
A name change is allowed without penalty.
* For more details about our change policy, consult via e-mail.
* New Contact Center number: 00 800 6699 2222