The Tourism Sector of the Argentine Confederation of the Medium-sized Enterprise (CAME), together with the Federation of Shopping Centers of the Province of Santa Fe (FECECO) and the Center of Industry, Commerce and Affinities of Hope (CICAE), invites National Forum of Rural Tourism, The Friday July 7,In the CICAE building, Province of Santa Fe, starting at 9 hours.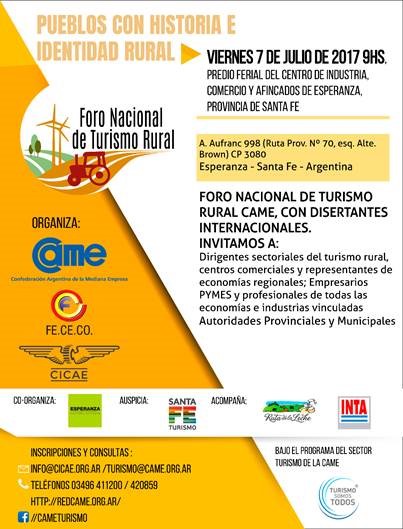 The space will have among its objectives:
Promote the sustainable development of rural tourism, strengthening its history, identity and regional economies.
Generate ideas and business projects based on linking regional production and trade with tourism.
Build, through the production spaces and the identity of each town and region, attractive offers that provide a memorable experience to tourists and visitors.
To develop the tourist and recreational potential of the communities, promoting new sources of employment and the development of new enterprises.
For inscriptions, please clicking here.