exclusive domains agencies: tur.ar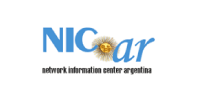 Through an agreement signed between NIC (Network Information Center) Argentina and the Ministry of Tourism of the Nation, the implementation of an exclusive web subdomain recognize that allows travel agencies and tourism enabled officially decided.
This is the domain ".tur.ar" whose presence guarantees the user that the company will eventually hired to take a trip has the support of the SECTUR.
One of the main advantages of the subdomain is that their production and use is free, provides added value to companies that comply with the regulations and promotes the use of information technologies.